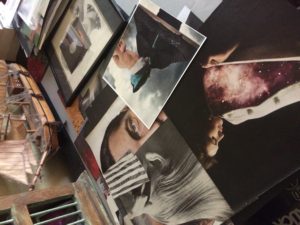 My last digital collage was made in February of 2016 and since then I have strictly cut and paste all created pieces.
Prior to going "analog" I did a little of both. When I decided to go full on with collaging back in 2015 I did start out digitally creating pieces. That reason was because I didn't have the heart to cut and destroy books and magazines I had found. I had several rules when digitally creating: photograph what I find, don't use well recognized pieces, and create in a 13×13 inch 300dpi Photoshop canvas.
I'm now approaching a full year of physical pieces and I do find it rewarding working this way. After I create something the piece exists and I can hold it. The limitations of creating analog have pushed my creatively as well.